American Legion Post 346
Cavanaugh Flight Museum
38th Infantry Regiment
2nd Infantry Division Re-enactors
Miami Beach Community Development Corp.
Miami Design Preservation League
Military Vehicle Preservation Assn 1st Florida Chapter
Previous Event Coordinators
Dr. Judith Berson-Levinson
Royal South Beach Hotel

Bruce Lamberto
Vintage Military Vehicle Assn
Military personnel courtesy of the 38th Infantry
Regiment 2nd Infantry Division Reinactors
Mario Ramos
Miami Beach Community Development Corp.
Lance Steytler
Colony Hotel
previous host Committee


Sheldon Brown, WWII Veteran,
Deceased

Miami Design Preservation League


Roberto Datorre
Miami Beach Community Development Corp


Laura Jamieson
Miami Beach Botanical Garden

Carolyn Klepser
Historic Researcher

George Neary
Greater Miami Convention and Visitor's Bureau
Joe Pinon
American Legion Post 346

Dona Zemo
Miami Beach Chamber of Commerce
For Information, contact:
Dr Judi Berson-Levinson


wwiimemorial.com




W W I I M I A M I B E A C H V E T E R A N S
From 1942 to 1945 Miami Beach played a significant role in WWII. Nearly 500,000 men, including matinee-idol Clark Gable, took over 300 hotels and buildings for housing and training headquarters under the Army Air Forces Technical Training Command. By the time the war ended, one-fourth of all Army Air Force officers and one-fifth of the Air Corps' enlisted men had been trained in "the most beautiful boot camp in America''—Miami Beach. Another group of hotels and buildings served as an Army Redistribution Station for infantrymen returning from battle. These men were reunited with their wives, and "ordered" to have fun before being released or reassigned.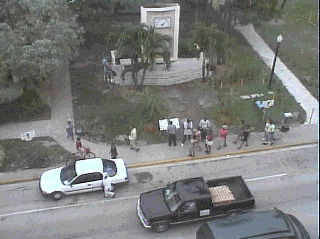 Thousands of tourists and residents learn about the role of
Miami Beach during WWII by reading the veterans plaque
located on Ocean Drive across from the Edison Hotel .


The Miami Beach WWII Veterans Plaque is listed in the National Register of
Historic Places. For information click here...
| | |
| --- | --- |
| | Reliable web hosting starts @ $2/month |